Fiat (FCAU), the seventh largest automaker in the world, has recently separated Ferrari (RACE) out of the company vie spin off. Everyone knows Ferrari – a leading luxury sports cars and racing cars manufacturer in the world. The company has a significant market share in the luxury car field, and is able to maintain a solid growth and respectable profitability over the years (an operating profit margin of 15%).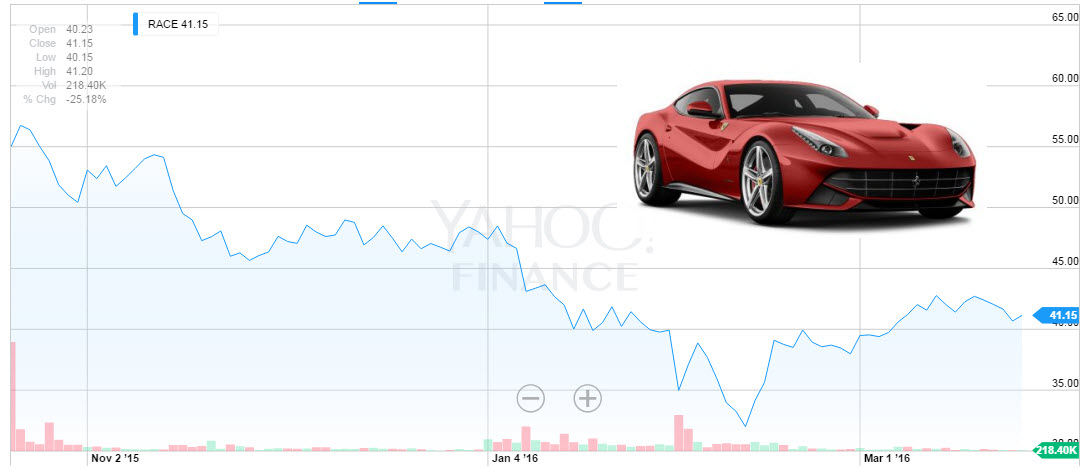 In 2015 the company was able to grow by 3% compared to 2014, and is aiming for similar further growth in 2016. It will find it difficult to grow beyond this growth rate in the upcoming years, unless it releases some new models into the market, something that does not happen every year. In addition, last year's growth in the US and Europe made up for the sharp decline of sales in China, but the mixed recovery of the US economy and stagnation in Europe will make it difficult for the company to produce a more significant growth in the upcoming years.
Currently, after the spin-off from the parent company, the company is based on a cash reserves totaling at 334 million euros (If short-term investments are included), that, opposing a huge debt of 2.2 million euros. I do not see a liquidity risk in the near future, but I also do not see the possibility of an increase in the company's leverage that will fund development of new cars.
In terms of pricing, the company trades at a P/E of 23.4 and an EV/EBIT of 19.6, multiplies of more than double of the competitors. The fact that revolutionary companies like Tesla Motors are breathing down Ferrari's neck, also reinforces the conclusion that the stock is not cheap. In an optimistic scenario, if I assume a growth of 5% per year in the next five years, about half a percent improvement in profitability and a discount factor of 6.7%, I can hardly justify the current price of $40, definitely not above that. Analysts are much more optimistic about the company and give it an average target price of 48.5 dollars. It seems too excessive to me.
Fiat, the parent company, looks much more interesting after separating Ferrari. One of the most successful investors who believe in these companies is Mohnish Pabrai, who holds 38.5% of his portfolio in shares of Fiat and 12.3% in shares of Ferrari, so apparently he believes the shares are attractive. It will be interesting to find out if at the end of the first quarter of 2016 he will still hold the Ferrari shares. As of the end of 2015, almost two-thirds of Pabrai's portfolio is exposed to the American automotive industry (Fiat, General Motors and Ferrari) and most of the remaining third is invested in Google shares. This is a highly concentrated portfolio. A wise bet or a risk? Only time will tell.